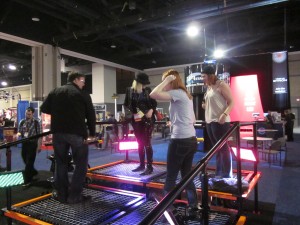 Now that USITT is over, its time to return to real life, as much as we would rather pretend it doesn't exist. I've had an awesome time this week catching up with old friends, making new friends, walking the floor, and as always learning even more about the opportunities in our future after school. I walked around today asking students what they thought of the conference, and if they were coming back next year, and found that USITT was getting glowing reviews:
"I'm loving the expo, the swag is spectacular! The sessions are great and I'm already planning for next year."
-Z.P. – Western Kentucky University
"The last few days I've been so excited. For the first half hour on the expo floor I couldn't stop smiling and taking pictures. This conference has been amazing, and I want to live here. I'm in techie heaven!"
-A.B. – Arts University College at Bournemouth
"As a sophomore, I really enjoyed this opportunity, but I'll probably wait until senior year to come back for networking and employment opportunities. Its good to know that this is available."
-C.G. – Emerson College
"Everyone seems really interested in what's going on, which is much different from last year. Its very nice that people are interested in what's going on and happy to be here."
-B.G. – West Texas A&M
"I've seen that USITT offered many more opportunities as far as grad schools and jobs. Overall it's been an amazing experience. I'm definitely coming back next year."
-L.G. – Berea College
"This was my first time attending the conference and it was excellent to meet professionals in the industry and to network through those professionals is a great experience for undergrad and grad students. I'm definitely coming back next year."
-B.G. – University of Oklahoma
"It was fantastic, amazing, awesome, pretty darn cool! My favorite part was the show floor, networking with people, meeting new people, making connections. I hope to be back next year."
-S.U. – Virginia Commonwealth University
"The show floor was smaller then previous years, which gave more of a sense of community between vendors and designers, etcetera. It was good that there were more student geared sessions, where professors weren't allowed."
-D.M. – CalArts
The show floor this year was an amazing opportunity for everyone that made it, students, vendors, and professional alike. Hopefully next year can uphold the excellence that we've all come to expect, and continue to make attending the conference worthwhile. USITT strives to be specifically geared toward students and education, and this year they really managed to achieve that goal. I'll definitely be attending in long beach next year, and I know a lot of students who I'll be seeing there!
Share

Comments