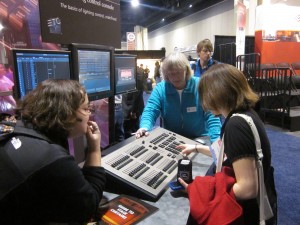 The second day of USITT is over, and I feel like I've thoroughly explored the floor. Meeting people, seeing the sights, and visiting with friends is half the draw of the conference. Its up to students to get the most out of the booths, unlike sessions, they don't cater straight to us! The goal is to learn everything about new technology and the companies that sell it in as little time as possible, and USITT can be the perfect place.
Talking to strangers can be intimidating, especially if they look at all busy. In my own experience, and from chatting with others, I've found that the best exhibitors are the ones that make any visitor feel welcome and who are willing to talk about their products whether you're a potential buyer or a curious student. ETC, StageSpot, and Lee Filters have been three of the most student friendly booths at this conference, at least among the people I've talked to. ETC always is amazing, they have plenty of representatives so they don't get overwhelmed, and there is always a product to see and learn about. The people at StageSpot have been great, they're eager to answer any questions and show off their tools to any student who is interested in new toys. And Lee Filers is always fun, happy to talk about the products and find the swatch that matches my hair!
The floor is covered with technology, and it's not just for looking. I've talked to many students today who rave about having the ability to play with the consoles and fixtures that make them drool. The products showcased at the booths provide an excellent opportunity for those willing to take advantage, for students to see what is out there and what it can do. Many of us won't get a chance to work with such fantastic gear while still in school, so USITT is the perfect place to see where the industry is going and to start thinking about the future of design.
The most important thing to remember is that there is more to be gained from the booths then the swag. Fortunately, it's not too late to get the most out of the show floor, we still have one more day! It's been a great conference so far, and I'm looking forward to spending today making sure I didn't miss a thing.
Share

Comments