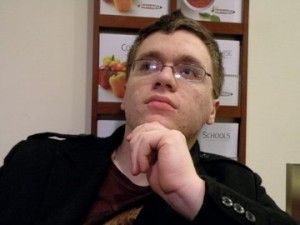 Hey guys! My name is Drew Carter, and for the next few days I will be writing here on isquint.net on my daily experience while attending the first ever USITT Elite Training Weekend. I'm a junior BFA Design/ Tech student at Central Washington University in beautiful Ellensburg, WA.
At the end of March I was accepted into the program to spend 3 days in Las Vegas, NV learning technology at Cirque Du Soleil's resident show training center. So 31 others and I will be split into groups of eight and study in one of four areas; audio, rigging, multimedia, and automation. I will be studying automation, which will include lessons in products and solutions from Stage Technologies. As well, all of us will tour backstage of Viva Elvis, Mystere, and KÀ. On top of all this we all have the opportunity to job shadow on a show. For the automation group we will shadow KÀ, one show backstage, and one show from the booth.
While I'm there learning about automation (something I am very UNfamiliar with) I will post new things learned, my experiences with the technology, and hopefully pictures of the technology used in action! But alas, I am a lighting guy first and foremost so a few lighting pron pictures may show up…
I'm very excited to be here writing and I hope you enjoy!
Share

Comments