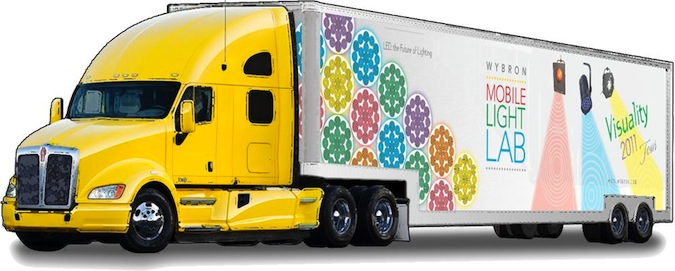 Wybron is hitting the road once again this year.  This time, it's a entirely different truck. Here is more from Wybron about the new Wybron Mobile Light Lab.
The Wybron Mobile Light Lab is a 48-foot pop-out-equipped trailer that features all of Wybron's most crowd-pleasing products. Wybron President Keny Whitright had it custom-built after proving the popularity of the company's Mobile Showroom, which traveled the country in a rental trailer from 2009 through 2010.
But he didn't simply replicate it. Instead, Whitright chose a larger vehicle and tailored it to the feedback collected from visitors to the Mobile Showroom. He also decided to allow visitors to take the helm of their Mobile Light Lab experience.
Upon arriving at a host dealer, visitors will enter the Mobile Light Lab's reception area. There they'll be able to view the day's schedule, which will include educational presentations and refreshments, as well as learn how to get the most out of their experience. As a bonus, those who register will be entered to win an iPod Touch — one of two Wybron will be giving out each month — and complimentary copies of all of Wybron's iPhone apps.
After registering, it's "off to the show." Visitors will enter the main room of the Mobile Light Lab, which is much larger than that of the Mobile Showroom. Inside, six main stations — each featuring one of Wybron's cutting-edge products like the Cygnus VN200 and Coloram — line the walls. Each station features a fixture representative of one of Wybron's most popular product families, a flat-screen TV and an iPad. Those who prefer to explore on their own can toy with the fully functional demos and control them with the iPad, which they can also use to change the display of the podium's TV to a slideshow of product action shots or a video catalog of other product family members. Each podium will contain literature for visitors to take with them.
Those who want a real feel of a product's performance can participate in a demonstration. Podiums can easily be moved to a spot 25 feet away from a large white screen that fills the Mobile Light Lab from wall to wall and ceiling to floor. Competitors' products will also be available for side-by-side comparisons.
Look for updates on the Visuality 2011 Tour from Wybron here on iSquint through out the year.
Share

Comments