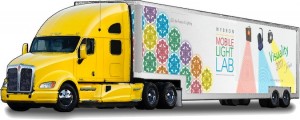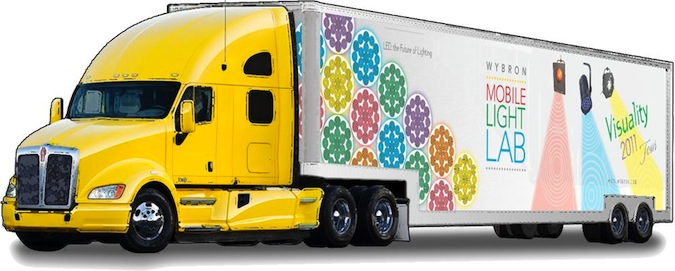 Wybron's brand new Mobile Light Lab is hitting the highways again.  This time it is off to the Northwest in March to continue on with the Visuality 2011 Tour.  More from the press release:
The Wybron Mobile Light Lab will first head to Fresno, Calif., where it will host events at Michael Garrison Associates and Live Light Inc. on March 14 and 15 respectively. It will then head to Musson Theatrical in Santa Clara, Calif., for a March 16 event and Holzmueller Productions in San Francisco, Calif., for a March 17 event. It will wrap up the week on March 18 in beautiful Sacramento, Calif., at Sacramento Theatrical.
The Mobile Light Lab will then head north to Oregon and Washington. Its first event of the second week will be hosted by Bud's Lites, a Molalla, Ore., dealer that will hold a March 21 event at Chemeketa Community College in Salem, Ore. Then it's off to Portland, Ore., for a March 22 event at Stagecraft Portland, and Seattle, Wash., for a March 23 event at Hollywood Lights. The Mobile Light Lab will wrap up the month with a March 24 event in Olympia, Wash., at CCI Solutions and a March 25 event at Stagecraft Seattle in Seattle, Wash.
Each event will provide visitors with a one-of-a-kind, upscale experience that combines hands-on Wybron product demonstrations, continuing education, refreshments, and opportunities to network with colleagues and ask questions of Wybron product experts. Visitors will be entered to win an iPod Touch — one of two Wybron will be giving out each month — and complimentary copies of all of Wybron's iPhone apps.
Share

Comments