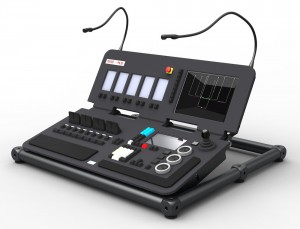 XLNT Advanced Technologies just announced their latest product at ProLight + Sound in Frankfurt Germany, the XLNT CyberMotion control system. XLNT CyberMotion offers a complete range of motion products designed specifically for the entertainment industry. Developed by XLNT Advanced Technologies, SIL3 certified state of the art technology was used to create a unique series of intercompatible road-ready products for breathtaking shows and cost efficient global touring.
Intelligent, variable speed chain hoists, winches, trolley beams and other motion control mechanics, instantly add movement and velocity to permanent installations, multi-purpose venues, concert touring and theatre, TV or event productions of any size.
A convenient integrated truss concept significantly reduces load volumes, the time needed for set-up and tear-down and the required number of onsite staff. All XLNT CyberMotion products are multi-voltage and suitable for global use. The plug & play CyberMotion system provides a choice of two intelligent, variable speed chain hoists, the XLNT CHII-Hoist, for world-wide touring and spectacular shows, and the XLNT C-Hoist, designed for multi-purpose venues, permanent installation and theatres.
The XLNT C-Winch is an intelligent, high-speed winch for ultra-fast lifting and movement of lightweight objects with 0.1 mm positioning accuracy. XLNT C-Track and XLNT C-Trolley provide a versatile, wide beam monorail track system suitable for truss suspension and floor mounting, with a wireless trolley system for spectacular 3D movement.
Complementing all these is XLNT C-Truss, smart, dedicated truss solutions to integrate XLNT CyberMotion products into a grid concept and maximize headroom. C-Truss increases return on investment by reducing set-up and tear-down times and optimizing logistics.
Providing programming and show control is the new, dedicated XLNT MotionCue3D, an intuitive front-end operating console for intelligent, object oriented programming of complex 3D objects with 0.1 mm accuracy, using CAD and animation software. It provides real-time 360° view and position tracking and allows freely assignable points of rotation per object or cue.
Finally, distributing the system's power and data respectively are XLNT C-Power,  solid-state power distribution in durable steel housing, and XLNT DataMotion, a road-proof and reliable Ethernet data distribution to keep equipment working under all circumstances.
As well as being SIL3 Certified CyberMotion is compliant with all international safety standards and codes of practice (EN61508, DIN56950, BS, FEM, UL), built using industrial grade technology to last and perform with a tireless duty cycle, and features practical, compact design.
XLNT Advanced Technologies is an international company, solidly grounded in the entertainment industry. Our passion for technology and experience in entertainment form a solid foundation for the products we design and manufacture. We focus on innovations that will broaden creative horizons and meet uncompromising needs for safety and touring while increasing return on investment.
Share

Comments