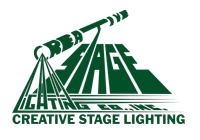 Creative Stage Lighting has announced their second webinar for 2012, Green is a number. The webinar is scheduled for Wednesday, May 9th at 4:30pm EST. How do you measure the environmental impact of a light fixture? There are many ways to look at it, starting with the light output compared to the energy input. But that's just the beginning. Take a quick trip through the green valley of sustainable lighting including best practices for lessening the environmental impact of your lighting designs.
Points to be discussed include:
* Memory consoles changed the way shows were cued and lit.
* Automated lighting changed the way shows look.
* DMX512 changed the way consoles are run.
* LEDs changed the way shows are colored.
* Media servers changed the way video is controlled.
* Networking is changing the way shows are built.
* RDM will change the way shows are tech'd.
* Technology is changing everything in the live event production industry.
What's coming in the future? New technology. Hang on for the ride of your light. You can learn more about the webinar by visiting Creative Stage Lighting's blog and register for the webinar on GoToMeeting.
Share

Comments