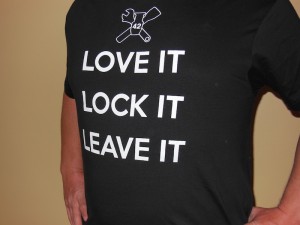 Ah Cyber Monday. The only day the entire year it is ok to surf the internet at work and buy stuff for yourself. I don't know about any one else, but I am STILL in a turkey comma! It's nice to have left overs. If anyone has a pumpkin pie they want to get rid of, I'll be happy to help out.
It is that time of year to load up on presents for the holiday season! We have reduced the price of the all new iSquint Love It, Lock It, Leave It, or L3 shirt for the holiday season.  On top of a new lower price, we are shipping everything out for FREE! So while you are surfing the interwebs for deals, make sure to head over to the SquintDepot to pick up the new L3 t-shirt for just $20.00 USD.
Cyber Monday doesn't stop there for SquintDepot.  All day long we will be introducing new products for the Squint in your life so check back often!
Share

Comments