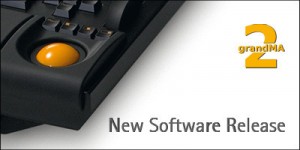 MA Lighting announced the release of version 2.5.3 [6.6[ of the grandMA 2 console software. Important note: Since the release of version 2.3 and the introduction of divorced values and effect values, older show files may not be 100% compatible with the new version of the software.
Main Features of 2.5.3 [6.6]:
Sheet Masks

The sheet masking has been revised and extended. The Feature Mask from previous versions has been improved and can be found by setting the right hand side of the new sheet mask options to: Show if in Saved Attributes, then pressing the 'Define Mask' button to choose what features or attributes to display.

Filter

Store filter, At filter, Circular Copy filter and link defined filter have been merged together to one attribute filter and can be stored and recalled by the filter pool. The filter pool is a global pool used by all users.
There are a ton of new features with regards to filters

grandMA Show Converter

Users can convert grandMA series 1 show files to grandMA series 2
grandMA Show Converter will convert only show data.
There are some other limitations when converting show files.

Fixed Bugs and improved Functionality

There are three pages of bug fixes
In addition upgrades to the series 2 consoles, MA has also updated features for the MA VPU, grandMA 3d and grandMA series 1 consoles. You can read all of the release notes and download the software update from MA's website, www.malighting.com. As with all software updates from MA, this is a free download.
Share

Comments