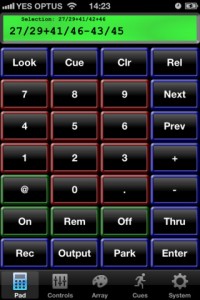 For all you Strand fanatics, good news, there is now a Remote Focus Unit app available for you on your iOS device! The app is not an official app from the Philips/Strand Lighting company, but from a third party app developer, Backstage Solutions.  These are the same people that made an RFU for the Palette Series of desk that is web based, mRFU.
Here are some of the features of Palette iRFU:
Channel/Fixture and Output control with ability to Park channels
Attribute controls; Color Picker, Position Pad and basic access to several other attributes
Access to the Palette button array; Which can get selection information for the group palette and will set attributes of the remotes selection for Position, Color and Other.
 Cuelist display and controls
Go, Stop, Release and Jump to cues.
Rotate device to the left for a virtual looks view. With live feedback from console
Rotate device to the right for a grid of channels or outputs
Also with live feedback. The grid allows you to tap fixtures to select/deselect, press and hold to see patch information.
If you are a Strand User, header over to the iTunes App Store and pick up a copy of Palette iRFU. Through the month of January, Backstage Solutions is running a 40% off sale which brings the app to $26.99 USD.
Share

Comments