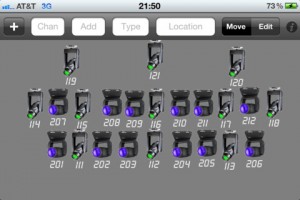 There is a new app on the market for those iOS device lovers like me, PE Magic Sheet.  As of right now, the app is only designed to run correctly on an iPhone or iPod.  The iPad version is still in the works.
What it is:
Production Electrician Magic Sheet is designed to quickly give you a magic sheet of your rig at your finger tips. PE Magic Sheet is also a great tool for keeping a database of information about every light in your rig. It's the perfect tool for needing to know a fixtures address when swapping a light!
PE Magic Sheet is a perfect tool for freelance lighting designers, electricians, stages hands and students.
Features
Saves and loads a .csv file that can be edited on your computer.
Files can be given to colleagues
11 Standard Fixture types
Stores 10 fields of information about each fixture
PE Magic Sheet is available on the iTunes App Store for $5.99 USD.  To learn more and to purchase the app, visit the iTunes Store.
Share

Comments