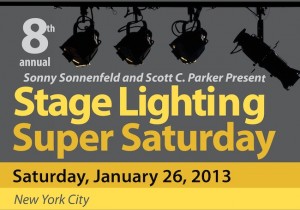 One of my favorite events of the year was just announced for 2013! The 8th annual Stage Lighting Super Saturday in New York City takes place on you guessed it, Saturday, January 26th, 2013.  Stage Seminars, the organizer of the event has just announced that registration is open and ready.
Here is a bit about Super Saturday:
At 8:00 am on Saturday, January 26, 2013, the eighth-annual Stage Lighting Super Saturday all-day seminar will take place at the conveniently located Fiorello H. LaGuardia High School of Music & Art and Performing Arts in New York City near Lincoln Center on Amsterdam Avenue and West 65th Street.

Once again, this popular annual seminar is designed for everyone involved in stage, architectural, or entertainment lighting. The sessions are not too basic nor too advanced. Everyone who attends will benefit. The intense all day seminar will be led by theatre lighting professionals leading sessions about inspiration, training, product, and just doing it.

Approximately 20 manufacturers and technical specialists will demonstrate equipment. Previous years' supporters included Altman, GAM, Martin Pro, Lee, SeaChanger, Strand and more. Broadway lighting designer Ken Billington will present an inspirational session on the "Art of Stage Lighting." Broadway lighting designer Richard Pilbrow will present a session discussing Virtual Lighting Control using various tools including the iPad.
For more information about Super Saturday, visit www.stageseminars.com. Thanks to Scott C. Parker and Sonny Sonnenfeld for organizing such a wonderful event. If you can make it, DO SO. I'll see you there!
Share

Comments