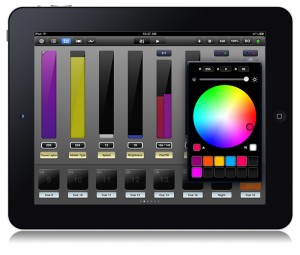 It has been some time since we heard news from Synthe FX.  Their latest Press Release tells us why! Here is more from the pr:
Synthe FX is pleased to announce the immediate availability of Luminair for iPad v2, the next generation of the popular touch-based DMX lighting control app for live entertainment, film and TV production, architecture, and for anyone else who works with creative lighting.
Luminair is a full-featured mobile lighting control platform, capable of controlling all DMX compliant gear including LED fixtures, conventional lighting, dimmers, media servers, and more, using any Art-Net or sACN to DMX interface.
v2's new project architecture was rewritten from the ground up to take full advantage of iCloud, making it the first lighting controller on the market to offer seamless syncing of project files across multiple devices via the cloud. The new version also adds a new layer-based cue merging system, integrated sharing options, undo support, as well as the ability to wirelessly monitor DMX input and output signals on an external HDTV or projector via AirPlay and Apple TV.
Luminair for iPad v2 is available now for purchase and immediate download through the App Store on iPad, or through iTunes on a Mac or PC. v2.0 is a free update for existing Luminair for iPad users.
Luminair for iPad v2 feature highlights:
iCloud support. Automatically sync Luminair projects, fixtures, images, and other documents between multiple iPads
AirPlay, HDMI, VGA, component and composite video-out support for displaying DMX input or output levels on an external display or projector
Integrated sharing options add the ability to send project, fixture, and image files via email and Twitter
New "merge" cue type allows you to combine and arrange the DMX levels from multiple cues in a layer based hierarchy
Designate any track as a master, independent of changes between cues
Undo support for many actions throughout the app
Over 25 other improvements, bug fixes and more
A brief video detailing the new features in Luminair v2
Luminair v2 is a free update for those that have already purchased the app.  If you have not already purchased the app, Luminair runs $99.99 on the iTunes App Store.
Share

Comments