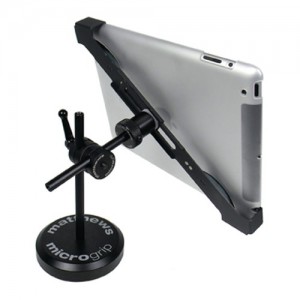 Remember Tinker Toys when we were younger? I use to love building things out of Tinker Toys and Lego's.  Truth be told, I still love creating things with Lego's.  If you work in the TV and Film industry, you may never have grown out of building things.  Especially if you are a grip!
Matthews Studio Equipment is the big boys tinker toys.  You need to hang a fixture any where or off of something, MSE has a "tool" to help you do that.  I always love looking through the MSE catalog… You know, that thing that companies use to print with pictures and information. The MSE catalog is FILLED with tools and hardware to create different mounting systems and hanging hardware.  It's like we have a grown up version of tinker toys.
In the past couple of years, MSE has gotten into the smaller grip equipment, called MICROgrip or Tinker Tools as MSE likes to refer to the series.  MICROgrip is a scaled down version of their lager grip equipment.  MSE keeps adding new clips, mounts and holders to the MICROgrip series.
The latest mount in the MICROgrip line is the Universal Tablet Mount.  It does exactly as the name suggest, it mounts a tablet device, like the iPad to the MICROgrip system.  Why would you need something like this? you never know! So MSE has you covered.  The Universal Tablet Mount comes in three kits. A Basic for $120, a Desk Kit for $200 and a Master Kit for $250.
Learn more about the MSE Universal Tablet Mount or any of their other Tinker Tools by visiting www.msegrip.com.
Share

Comments