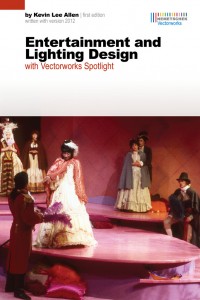 Perfect timing! If you are a student looking to enter the 2012 Student Lighting Design Competition, Kevin Lee Allen's new book, Entertainment and Lighting Design with Vectorworks Spotlight, First Edition might just be what you are looking for! Not only in Kevin Lee Allen one of our judges for the SLDC, he is also an award-winning lighting and scenic designer whose work includes theatre, film, TV, museums and corporate environments.
More from the press release:
This book explores the use of the Vectorworks Spotlight with Renderworks® program for use in the entertainment industries. While the methods and techniques described are applicable to film, television, concerts, exhibits, and themed architecture or interiors, this tutorial focuses on a project that creates lights and a set for the stage, the root of entertainment design.
From one step beyond traditional pencil thumbnails, this guide outlines a process of design development and collaboration with other designers and technical staff. The text is tutorial-based and directs the user to create two projects, each supported by a series of simple exercises. The first project is the creation of a simple 3D form, and the second project entails the creation of a scenic and lighting design for a theoretical production of Romeo and Juliet.
This book is written for professional designers as well as designers in education (students, instructors, schools). It is intended for use with Vectorworks 2012 software and is most applicable for Vectorworks Spotlight and Designer users. It is a part of Nemetschek Vectorworks' self-paced training options, designed for people who like to learn on their own and at their own pace. For more information and to purchase these tutorials, please visit www.vectorworks.net/training/guides.
The tutorial will also be part of the prize package for the iSquint.net and Stage Directions Student Lighting Design Competition (SLDC), sponsored by Nemetschek Vectorworks, City Theatrical and Field Template. Allen serves on the competition's panel of judges. Entries are due March 16, 2012, and the winner will be announced at the USITT Conference on March 29. For more information and to view the complete rules.
Share

Comments