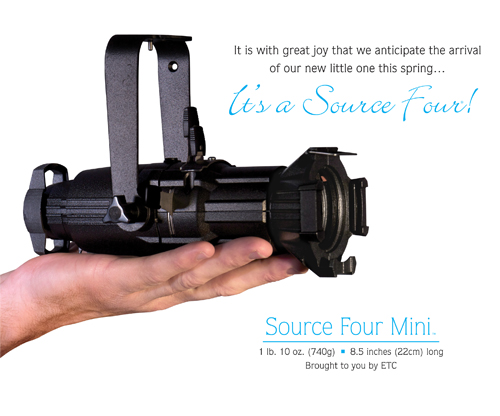 Say WHAAAA.  Just when you thought ETC had cornered the market with the entire line up of Source Four fixtures, they blow your mind by shrinking it down! Thanks to our friends at Barbizon and their Facebook page, we have some more details. ETC has setup a temporary page that we'll just have to keep refreshing next week.
Features for all Source Four Mini models
• 19°, 26°, 36° and 50° field angles
• 9" long, 2.5" diameter
• 50W tungsten/halogen MR16 lamp with 4,000-hour life • Portable or canopy-mount versions
• Track-mounted version available in summer 2013
• E-size pattern holder
• Gel media frame
• Rotating barrel ± 25°
• Three-plane stainless-steel shutter blade assembly
• Tool-free lamp adjustment
• Insulated rear handle
• Rugged die-cast aluminum construction
• Black, white, silver or custom colors available
We'll be sure to post more info as soon as it is available.
Share

Comments