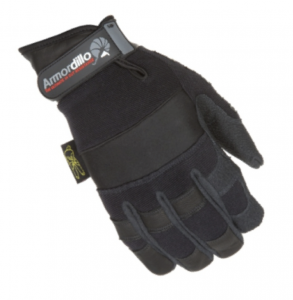 How important are your hands?  Are you one of the people the feels that wearing gloves isn't that important? I don't know about you, but after a long day of pushing boxes, hanging lights and pulling feeder cable, my hands are a WRECK! Honestly, the dirt and grim that feeder cables go through is disgusting! Why would I want that on my hands? What about sharp objects? We have ALL done it, gotten a nice little cut on our hands from the nicks on road cases. THOSE ARE THE WORST!
Time to protect yourself! Dirty Rigger has introduced a new line of production friendly gloves, the Armordillo Gloves.
The Armordillo glove ensures 100% confidence on the job when cut & puncture resistance are essential.  Strategically placed, specially selected materials are combined to produce a glove which is both dexterous and protective even when sharp objects are common place. A Kevlar lining proves optimal slash resistance while a tough yet flexible goat skin leather is used on the palm to ensure effective grip and puncture protection. Armortex is used in all key risk areas to provide an exterior shield against sharp edges and objects.
Armordillo gives the high durability of a regular Dirty Rigger glove with extra insurance against cut related injuries.
Armordillo -The ultimate in cut resistance!
Fully Kevlar® Lined
Armortex shields key risk areas
Puncture resistant leather palm
Articulated material
EN388 tested & certified against
puncture and slash risks
Learn more about the Dirty Rigger Armordillo Gloves at www.dirtyrigger.com.
Share

Comments