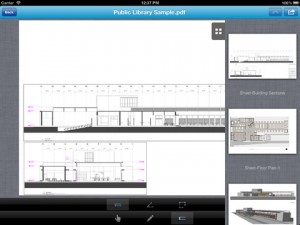 Nemetschek Vectorworks, Inc.has released a new version of the Vectorworks Cloud Services mobile application, Vectorworks Nomad 2.0.
The 2.0 version of Vectorworks Nomad lets users view, share, measure and annotate files. Enhancements include new redline drawing shapes, a sheet layer sidebar palette, angle and path measurement modes, improved download and upload performance and improved annotation text objects. The app is now available for both iOS and Android devices and can be downloaded from the Apple App Store and the Google Play Store.
"The updates and enhancements in Nomad 2.0 were based on feedback we received from customers," said Dr. Biplab Sarkar, chief technology officer of Nemetschek Vectorworks, Inc. "The ability to view, measure and annotate files in an offline mode provides even greater freedom, as users can make design decisions in the field without a network connection. And now, even more designers can take advantage of our mobile app, as it supports Google's Android platform."
Vectorworks Cloud Services is available to members of the Vectorworks Service Select subscription program. To learn more, please visit www.vectorworks.net/cloudservices.
Share

Comments