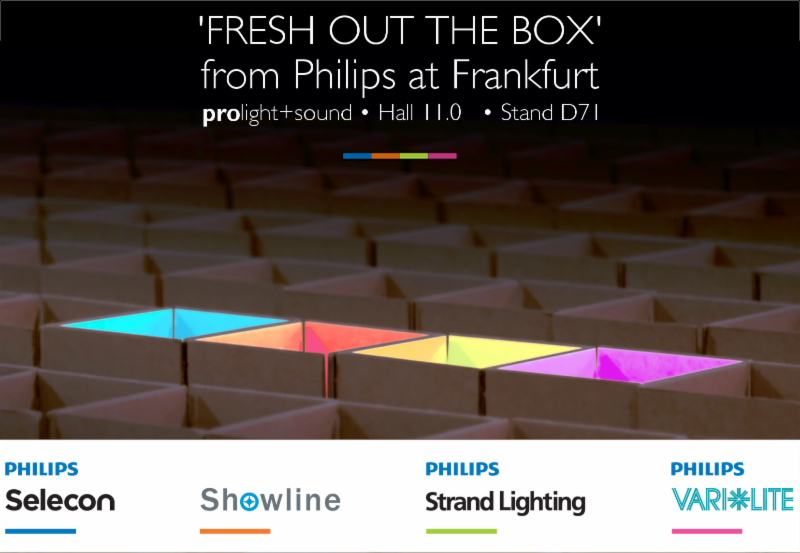 Things are getting exciting this Spring, Late WINTER. With ProLight + Sound right around the corner, the preview emails are flowing in.  One that caught my attention, this one, from Philips Strand, Vari-Lite, Showline and Selecon.  As a whole, they are launching some pretty interesting new products.  The thing that caught my attention in this particular email, the Strand part.
Strand Lighting will unveil its brand new expandable control system… all under wraps until ProLight + Sound opens.
How exciting, Strand is stepping up their game with some new control products!  I had a feeling something was going to happen there when they released the 250ML.  What will these new control products be?!?! I guess we all have to wait till ProLight + Sound!
Here is a preview of what is to come from all of the various brands of Philips Entertainment Group…
Philips Vari-Lite unveils the VL4000 Spot
Vari-Lite will debut the much anticipated feature rich VL4000 Spot luminaire. The VL4000 Spot represents the first in a new generation of Vari-Lite luminaires designed to provide designers, rental companies, venues and productions with luminaries that offer even more creative possibilities without compromise on quality. The VL4000 Spot includes all the tools required to create dynamic, artistic lighting for any application. Featuring low ambient noise, high lumen output, precision optics and a full feature set, the VL4000 Spot has been designed with high-expectation performance in mind.
Showline Premieres the SL NITRO 510C
Amongst a plethora of new LED products from Showline will be the much anticipated SL NITRO 510C, which  follows hot on the heels of the incredibly successful SL NITRO 510 LED, launched at last year's PL+S . The SL NITRO 510C LED strobe adds full RGBW capabilities into the same compact size luminaire while maintaining similar massive output, multiple zone control and continuous-on abilities.
Also debuting is the Showline SL WASH 350, a compact moving washlight with three independent zones of homogenized RGBW control. In addition budget minded projects will appreciate the new SL ePAR 180 and SL eSTROBE 130. These two luminaires offer high output and innovative features in a compact size.
Selecon premieres the LED RAMA Fresnel, which provides an adjustable cone of light, a soft edge, and is easily blended with adjacent beams for even illumination.
Strand Lighting will unveil its brand new expandable control system… all under wraps until ProLight + Sound opens.
Visit the Philips Entertainment team on stand 11.0 D71, Messe Frankfurt, 12-15 March and see what light can really do. There will be nibbles and drinks on stand throughout, and exciting product demos at fixed times throughout the day.
Strand Lighting will also celebrate a century of lighting innovation 1914-2014, and the Philips Entertainment Stand will feature a specially constructed 'Centenary Bar' hosting a number of exciting events and lightshows to mark this important milestone.
Share

Comments