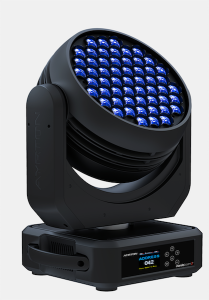 Who doesn't love a good light show??? There is something magical and special about a well designed and executed light show to demonstrate a new light. I have always been impressed with the light shows that Ayrton has produced for online viewing as well as in person at trade shows.  They go all out!
Sure, you can do some pretty impressive shows/demonstrations with a handful of the same light. Not for Ayrton, they go for the super-mega WOW factor. Their latest video proves that you go big, or go home.
Ayrton's latest light show demo video features 41 of their latest LED moving head, the NandoBeam S9.  Yes, 41! The lighting design and concept came from Stéphane Migné. While there is no mention, I assume this is was filmed in Ayrton's demo room in Longjumeau, France, about 15 miles south of central Paris.
Here are some details about the Ayrton NandoBeam S9:
NANDOBEAM S9 luminaire is the latest development and the most powerful fixture in the NANDOBEAM product line. Equipped with a new-generation power supply offering over 95% total output efficiency, this power feature enables the highly compact luminaire to use its LED sources continuously at full power without any loss of performance.
NANDOBEAM S9 is equipped with fifty-five high-performance Osram 15 Watt RGBW LED emitters arranged in rings around a central LED which is independently controllable to give a multitude of graphic effects possibilities.
For more details, visit www.ayrton.eu.  Contact Morpheus Lights, the Exclusive US Distributor of Ayrton, for demos and sales.
Share

Comments