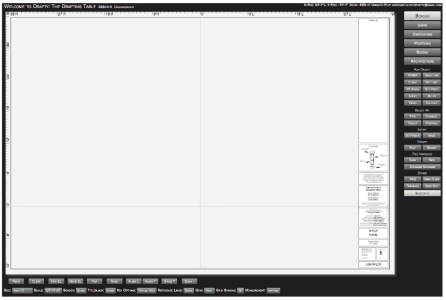 Are you looking for a less expensive CAD program to draft your shows in? It comes up a number of times all over the twitter and facebook worlds.  "What is a cheap or free draft program?".
In steps a cloud based drafting "program", Drafty, (www.drafty-app.com).  Drafty is a streamlined CAD program, developed by Lumax Software LLC., built from the ground up to meet the unique needs of Lighting, Sound, and Video designers for live entertainment. Drafty ships with a library of hundreds of scale-accurate lighting, sound, video, and scenic symbols.
Currently, Drafty is in beta.  Meaning, till the official launch, Drafty is free to use! All you need to do is have a Google ID to login and start using the free online resource to create full fledged plots.
Why use an online drafting program?  To start, the price seems pretty reasonable. As computers and browser technology becomes increasingly powerful, so do the possibilities for browser-based applications.  For their first version, Lumax wanted to make the best tool in the shortest time with the most rapid turn-around of features and fixes.  That being said, they would love to create desktop and mobile versions for all platforms where there is demand.
Looking over the getting started PDF, Drafty seems straight forward.  It gives a lighting designer powerful tools while leaving out the unwanted or unneeded tools found in desktop versions of CAD programs.  All of the tools and features are designed with a lighting professional in mind.  The goal, to create plots and paperwork quickly and easily.  As we all know, time is money!
Drafty is designed and created by Lucas Krech and Mark Maxham. Lucas is a Lighting and Video designer with nearly 20 years of CAD drafting experience and design work that has been seen everywhere from the basement of an art gallery to internationally acclaimed Opera houses. Mark is a software engineer with over 20 years experience and more than a dozen software patents to his name.
Learn more and start using Drafty by visiting www.drafty-app.com.
Share

Comments