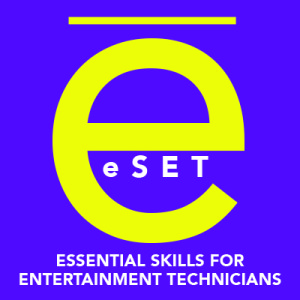 How important do you think it is to have knowledge and understanding of your professional career?  How do you express your level of competence in your field to an employer? Sure, you did the college thing, aced your classes and received your degree. Now how about putting that learned knowledge to work. Or maybe you went the school-of-hard-knocks approach to the industry.  You learn everything you know while on the job.
Any way you look at it, there needs to be a standard way of measuring ones knowledge of their profession against others or to meet a jobs specific requirements. USITT has announced the launch of their Essential Skills for Entertainment Technicians, or eSET.
More from USITT
This new proficiency program for entry-level technicians has launched its first online skills and safety tests in three disciplines — Lighting & Electrics, Rigging, and Costuming — as well as the basic Terms & Safety Test that's a prerequisite to take any eSET exam.
In the coming years, USITT's eSET Council will add exams in other disciplines including Audio, Scenery, Projection, and Wigs & Makeup. eSET offers a way for employers to test their technicians' skills, and for technicians to show their skill sets.
With concern for safety, liability, and best practices taking center stage in the live events world, USITT has developed this unique tool to measure the preparedness of entry-level employees and volunteers who perform technical tasks.
USITT Executive Director David Grindle said the goal is to give employers confidence that someone with an eSET certificate has the basic skills and knowledge to perform a technical job – at a theatre, school, house of worship, or live entertainment facility.
"If two students come to you with degrees in theatre applying for a job as an electrician, how do you know what they know?" Director David Grindle asked. "With an eSET certificate, you know which candidate has a strong knowledge of the subject."
eSET tests are written by groups of professionals who hire entry level employees, and are designed to test proficiency at that level. "eSET offers employers the same confidence in a worker at entry level as ETCP gives them on an advanced level," Grindle said.
eSET comes in two parts.  Part 1 is an online exam; Part 2 is a practical exam.  Online exams in the first disciplines are live now at www.usitt.org/eset. The first practical exams will be held during USITT 2016 March 16-19 in Salt Lake City. Passing each part earns a certificate; those who pass both written and practical tests also earn an eSET pin.
"Potential employees can bring an employer a certificate stating they have passed only Part 1 of eSET, or Parts 1 and 2," Grindle said. "Seeing an eSET certificate gives you greater confidence in the skill set of the potential employee."  Current employees are also eligible to take the exams, which cost only $40 for the first subject and are half-price for additional subjects.
eSET also offers a glossary of terms and a mobile app to help beginners learn over 2,000 terms used in entertainment technology. The app for iPhone and iPad can be found here. The android app is expected to go live on Feb. 1. Look for it, and more info about eSET, at www.usitt.org/eset.
Share

Comments