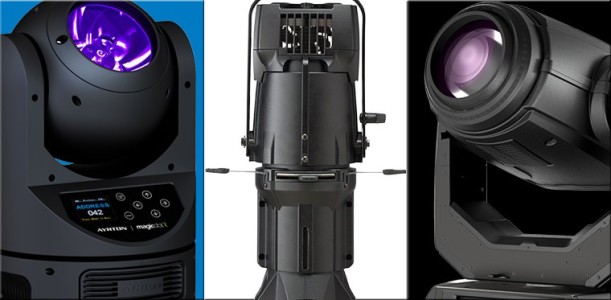 Have you heard of the Lighting Lounge over on UsedLighting.com?  4Wall Lighting started a blog a while ago that focuses on different aspects of the industry along with some industry news.  They recently asked me to write a blog post about three fixtures I am looking forward to using in 2016.  Here are some excerpts from the original post which you can find here.
Aryton MagicDot-R
Ayrton Lighting has made a huge impact in the entertainment lighting industry.  The company has been around for years. It was just four short years ago that Ayrton made a re-insurgence into the industry with the introduction of the MagicPanel 602, a moving head fixture with 36 individually controllable 15 watt RGBW LED array. The 6 x 6 LED may be impressive, but the continuous and unlimited pan and tilt of the fixture is what made the industry take note.
Robe Lighting VIVA
In the past couple of years Robe Lighting has stepped up their R&D in LEDs and has released some fairly impressive LED based moving heads.  The latest LED based moving head from the Czech company is the VIVA.  It's a lightweight moving head that uses a 270W white light LED engine.
ETC Source 4WRD
In mid-January, ETC released yet another bombshell on the industry with the introduction of their latest LED product, the Source 4WRD.  Professionals at every level of the business took notice of ETC's latest offering as it has a large impact on a segment of the market that wants LEDs but maybe cannot afford new technologies.
To read the entire post and my thoughts about these new products and why I look forward to using them, visit the UsedLighting.com Lighting Lounge.  Share your thoughts on these three new devices as well as new products that you are looking forward to using.
Share

Comments