It is a scary thought, but how would you like to control EVERYTHING from a single application? Vezér enables control and synchronization of any MIDI, OSC or DMX enabled environments – realtime video softwares, lighting rigs, etc. – through the use of timeline based automation.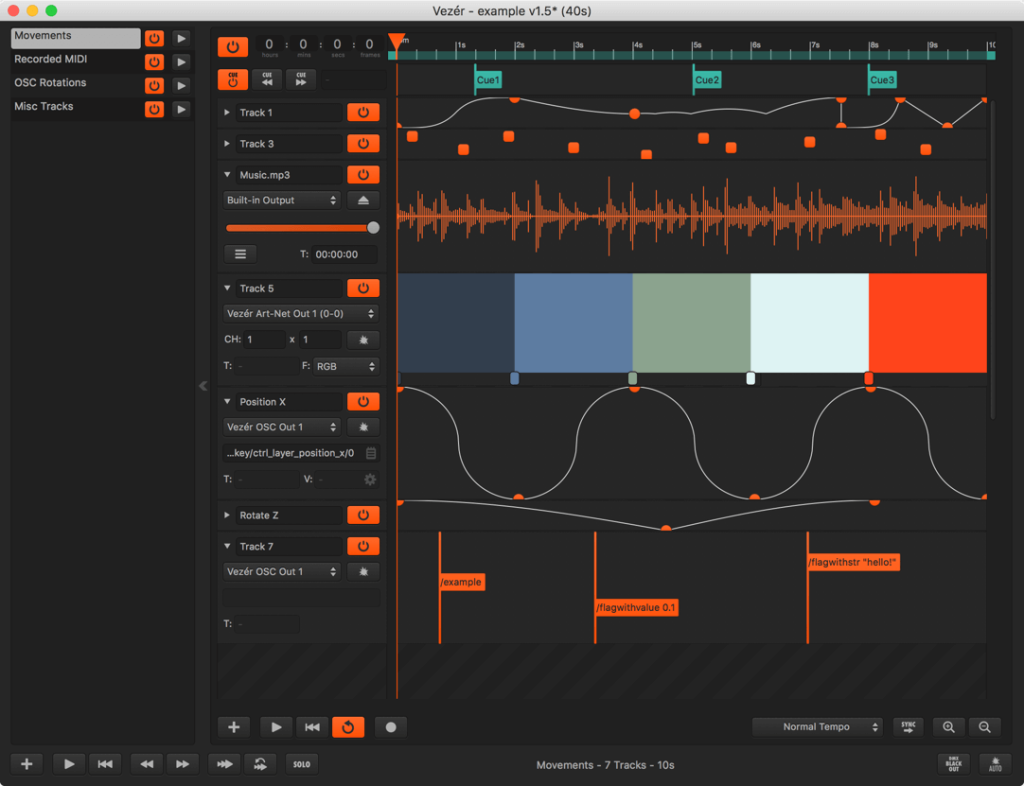 MIDI
MIDI type Tracks in Vezér allows sending of MIDI signals to any MIDI targets like realtime-video apps, lighting desk or even sound equipment. Vezér can also record incoming MIDI messages in realtime.
OSC
With OSC Tracks in Vezér you can send various types of messages to destinations even on a network. OSC Tracks are also available to send multiple values and you can even group the same types together to be sent as a single message. Vezér also provides a helpful OSC Preset system. Vezér can record incoming OSC messages too, in realtime.
Audio
Vezér supports playback of audio files in various format, even by extracting audio from video, as well as route the sound to a specific mono or stereo output. Besides that the application also let you convert the peak of the audio file to convert pretty easily and even with filtering applied.
DMX/Art-Net
The Art-Net Value and Art-Net Color Type Tracks in Vezér allows you to send DMX signals over Ethernet to multiple universes and control lighting rigs and other DMX capable environments, moreover recording of DMX data on a single universe is also supported.
Learn more about Vezér at www.imimot.com/vezer
Share

Comments