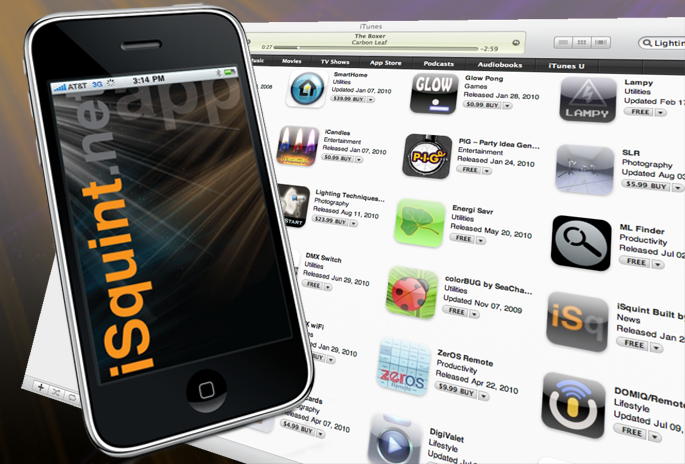 Introducing, the iSquint iPhone App
In early 2010, iSquint.net released it's very own iPhone/iPod Touch/iPad app.  In late 2009, iSquint was re-designed from the ground up with portable devices in mind.  Tremendous amount of time went into developing the site not just for compliance across web browsers, but also those little devices that we use day in and day out for social networking as well as checking our favorite sites. Not only is the site design cross browser compliant, but runs lean and mean with load times under 2 seconds depending on server traffic.
Why An iPhone App
Having an iPhone app for iSquint.net was the next logical choice for those that require their Entertainment Technology News right at their finger tips.  One of the benefits of having the iSquint App is that it is able to load the 10 latest stories on your phone for reading when a network connection might not be available.  Another benefit of the iSquint App is the ability to integrate your personal Twitter and Facebook account to share news articles from iSquint directly from the app. No more coping and pasting links and text between apps to share articles you enjoy.
Are you a subscriber to the iSquint Podcast but on the road and didn't have a chance to sync the latest episode, no worries.  You can download and listen to any episode of the iSquint Podcast right in the iSquint App.  The same hold true for the iSquint YouTube Channel.  You can download and view any of the videos from the iSquint YouTube channel without leaving the iSquint App.
Gimme Gimme Gimme

That's right, the iSquint App is absolutely, 100% FREE. Just like the site, I will never, EVER charge anyone to read the content of iSquint.net.  Information is and should be free and that is why I offer iSquint.net and the iSquint App for nothing.
Downloading the iSquint App is easy peasy.  Visit the iTunes App Store and download a copy for all of your portable Apple devices now!
FAQ
The iSquint App is listed as iSquint Built by AppMakr.com, is that really the iSquint.net App?
Yes, that is the iSquint App.  While I would love to code and produce my own iPhone/iPod Touch.iPad App, I just do not have the luxuary of that at the moment.  the iSquint App was "designed & Built" by me, but encoded and submitted by a third party, AppMakr.com.