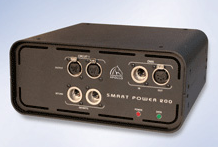 In today's Hoofprints Newsletter from Apollo Design, Apollo announced the replacement of the old 150w and 250w power supply unit with the new Smart Power 200W Power Supply unit (AC-SP-200W).  The new Smart Power 200 offers several new improvements over the previous power supply's such as auto-sensing power input for both domestic and international use.  The replaceable fuse is easily accessible on the back panel for quick replacement.  The unit also offers self-healing circuit protection and integrated handle with pipe clamp holes for mounting to battens.
The Smart Power 200W has (1) 5-pin DMX data input and (1) 5-pin DMX data passive output.  The unit has (2) 4-pin output for 24VDC and (2) 4-pin return for 24VDC.  The unit can power up to 5 MXR color mixers, 6 Smart Color Scrollers, 8 Smart Color Pro scrollers, 13 Smart Move rotators, and 13 EX Irises.  The Smart Power 200 weighs in at 7.7lbs (3.5kgs) which includes the mounting bracket and cord.  The entire unit measures 4.5″h x 9-7/8″w x 13-1/8″d.
Apollo Design will be releasing other versions of the Smart Power in 400w and 600w units in the first quarter of 2009.  Look for the product announcement here at isquint.net.
The Smart Power 200w Power Supply retails for $695.  To learn more about the Smart Power 200w, visit Apollo Designs wensite at www.apollodesign.net.  To purchase the Smart Power 200, visit the dealer section on Apollo Designs website to locate a dealer near you.
Share

Comments