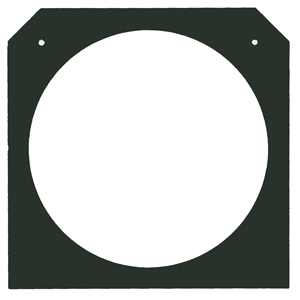 News from City Theatrical, They have redesigned their Source 4 gel frame. It will be introduced at LDI in Las Vegas on October 24 – 26.
Cost: This frame costs less than a standard color frame.  Is that important to you?  If you're a rental shop and use thousands of frames every year, you bet it is. Our new frame is 10% less expensive than our standard frame.
Weight: A full set of color frames for a show are quite heavy.  Even one electric pipe's color frames are heavy.  Our new frames are 33% lighter than a standard color frame, saving you weight when you hang your show, weight in transport, and even weight and cost when we ship them to you.  That makes hanging your show easier and saves you money!
How is it different? Our new frame is made from .030″ (.75mm) aluminum, folded with no hems.  In style and material, it's very much like a Source Four PAR color frame.
Why change? It's much lighter, and it's less expensive, and it performs like a standard frame in every other way.  So why not?
Is it black? Yes.  Flat black powder coat.
Where do the frames come from? Our talented craftspeople make them from start to finish here in our factory in Carlstadt, New Jersey.
Is the regular frame still available? Yep, if you want it, we have it.  We make those here also.
How much does the new frame cost? List price:  $5.35 compared to $5.95 for our standard steel Source Four frame.
For more information, visit City Theatrical's website or visit them at LDI in booth 1151.
Share

Comments