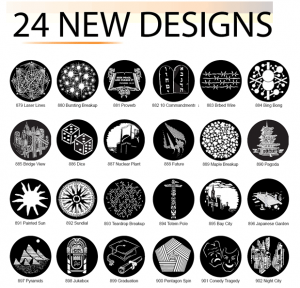 Great American Products (GAM) announced at LDI 2008 in Las Vegas 24 new standard metal gobo's to there product line.  All of the new gobo's are offered in the standard A (75mm) or B (64.5mm) size.  While we are not definate, most of these new gobo's should be offered in M (49.5mm) size as well.
To see a larger image of the new gobo's, click the image to the right or visit gamonline.com to see an even closer view of the individual gobo's.
To learn more about the new gobo's or any other product that GAM offers, visit their website, www.gamonline.com or visit the dealer locator also on their website.
All of these new gobo' and GAM's other 300+ standard metal gobo's retail for $12.95 each.
Share

Comments