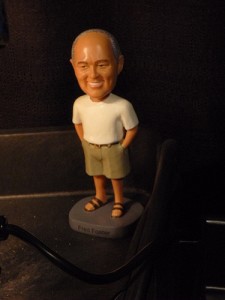 We are still compiling all the latest and greatest products announced and released at LDI this year.  While you patiently wait for us to get things organized, we have been looking around Flickr for photos attendee's have taken on the show floor.
The first set that we have found are by user Steven Truitt or aka, cookwanted on flicker.
Disclaimer: The image to the left and all images or video's linked or posted here on the property of others and NOT isquint.net.
The image to the left is one of 13 that Steven took while on the show floor at LDI.  It is a Bobblehead of Owner and CEO of Electronic Theatre Controls (ETC), Fred Foster.  One question, were can you get one of these?!?!  I sure the fine folks at Strand Lighting would have some fun with it!
Steven also took some short videos while on the show floor on some of the latest products on the floor.  Check out his VidoStream also on flickr.
Have some photos or news from LDI this year?  Send it over to us and we'll make sure to post it.
Share

Comments