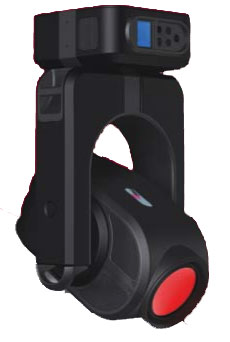 Production Resource Group, (PRG) one of the industry's top rental and production houses in the US and UK markets has recently announced the arrival of a new Moving Spot Luminaire at PLASA 2008 in the UK.
The Bad Boy™ from PRG is an elegantly engineered, hybrid luminaire that combines the qualities of a traditional automated light with alarge venue fixture.

Bad Boy is the ideal choice whenever a big-beam look is required, for example, when playing in front of high-brightness LED screens. Producing a powerful 48,000 lumens, the Bad Boy couples its high-definition optics with a Philips MSR Gold™ FastFit lamp that can be set at any level between 700W and 1400W. Boasting an optical efficiency of over 40%, Bad Boy doubles standard efficiencies, marrying both brightness and green product ideals without compromise.
The Bad Boy uses a Philips MSR Golf 1200W SA/SE FastFir Lamp and is configurable between 700w and 1400w.  The reflector is a precision glass reflector with dichroic cold mirror coating.  The Bad Boy utlizies 41 DMX address to control the fixture and includes CMY mixing, a static color wheel, 2 gobo wheels of 7 gobos each with full rotation and spin.
Visit PRG's booth, 821 at LDI in Las Vegas from October 24-26 at the Las Vegas Convention Center to see the Bad Boy in person.  Learn more about the Bad Boy by downloading the product datasheet or by visiting prg.com
Share

Comments