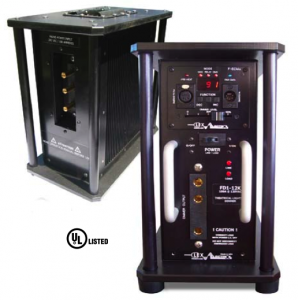 Lex Products has announced the release of three new portable dimmers, the 6kw, 12kw, and 24kw. These dimmers are designed for use with in any area of the entertainment industry where large load dimmers are required.  The roadworthy design is based on their portable power distro construction and include 100% solid state design and reliability. The dimmers have panel mount stage pin connectors for input and output as well as pass through.  The dimmers are controlled by microprocessor-based control electronics and offer a modular design for simple access and upgrade voltage. These dimmers offer three ways to control the dimming of the attached fixture, locally through a slider, full digital dimming with push buttons on the front to increase or decrease the intensity and finally through DMX 512A. The dimmers offer 8-bit resolution allowing for full 256-step dimming control to ensure exact level repeatability.
Lex Also offers their new portable dimmers in a revolutionary 19″ rolling Rack for applications requiring dimming and power distribution in one easy package.
Lex Products will be demoing their new Portable Dimmers as well as other products at LDI in Las Vegas on October 24 -26. Visit Lex Products in booth 868 at LDI.  To learn or about the Portable Dimmer's download their Product Data Sheet or visit www.lexproducts.com.
Share

Comments