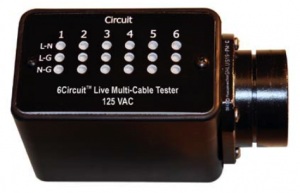 Lex Products, the provers of high quality power and data distribution products will be announcing and release a new product to the power tester line up called the LIVE Multi-Cable Tester.  The tester is geared towards the production and rental market with in the entertainment industry.
The LSC 6Circuit Live Multi-Cable Tester is the first portable 19-pin tester that tests and diagnoses cabling problems while the cable is still installed.  Unlike conventional 19-pin testers which plugs directly into theend of any energized, dimmed or undimmed six-circuit cable.
Dimensions: 5.5″L (with connector) x 2.47″w x 2.95″h
Rating: 120/240VAC
Features & Benefits:
Test LIVE 120VAC 19 pin cables and connectors
Verifies power on each of the circuits
Diagnoses both broken and swapped wires and pins
Provides 3 diagonostic LED's for each circuit, similar to popular electrician's single-cucuit testers
Ultrabright LED's can be used as a temporary worklight in tight and dark spaces above or around stages
Can confirm power on a moving -light 208VAC multicable
Extremely convenient, compact and easy to use
Durable rubber construction… a great addition to any tech tool kit
Lex Products will have demo units of the LIVE multi-Cable Tester on hand at LDI in Las Vegas October 24-26 in their booth, 868.  Visit www.lexproducts.com or download the product data sheet to learn more about the LIVE Multi-Cable Tester.
Additional Notes: Lex Products just recently updated their website with a totally new and user friendly layout as part of the kick off for LDI in Las Vegas.  Visit Lex Products new website at www.lexproducts.com.
Share

Comments