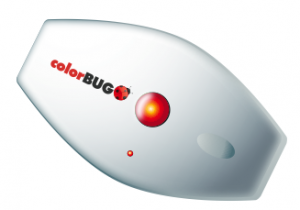 SeaChanger, the makes of the Dichroic CMY color mixing engine for the Source 4 are planning on announcing three new products at LDI in Las Vegas on October 24 – 26.  The first product has origins in the core basics of the mother company of SeaChanger, Ocean Optics, called the ColorBUG.
The ColorBUG is an ingenious, hand held wireless device for testing color and luminance in theatrical, studio and architectural applications.  Perfect for lighting designers, technicians and production personnel, ColorBUG is a the pocket-sized marvel that works wirelessly with the iPhone and iPod touch to determine CIE color values and luminance easily and quickly.  There's simply nothing more convenient or clever for helping you monitor color and lighting in virtually any environment.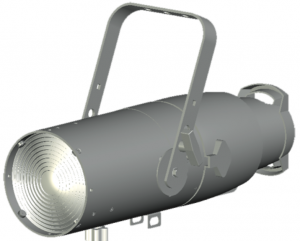 The next product SeaChanger plans to announce at LDI this year is the SeaChanger White Wash.  Just like it's brother, the SeaChanger Extreme Green, The White was uses ETC Source 4 Ellipsoidal as the foundation of the light.
The SeaChanger White Wash is the zoomable, soft-edged solution for stunning white light.You can manually adjust focal length of the lens to create wash areas from 20-70 FOV.  This whie light changer turns your ETC Source Four reflector housing into a wash light that provides soft illumination for theatrical, worship and architectural applications.  [The] SeaChanger White Wash is easily upgradable to [the] SeaChanger Color Wash in minutes.  Installation is quick and efficient.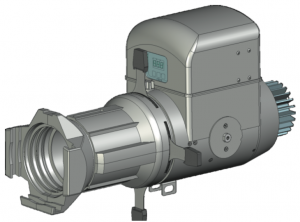 For years SeaChanger has heard for industry professionals that they would love to use the SeaChanger Extreme Green out side for concert and other events.  SeaChanger has anwsered that call with their latest product, the SeaChanger Nemo.
The SeaChanger Nemo is ideal for both indoor and outdoor lighting becasue of its resistance to the elements and carefree operation.  Nemo reduces enery costs with a solid state, energy efficient LIFI plasma source that reduces consumption and heat load.  this new class of high intensity light source brings full spectrum and dimming for both general and specialty lighting applications.  Nemo's LIFI design offers a longer life with up to 15,000 hours of lamp time — ideal for hard to reach installations.  The Nemo's broad spectrum high color temperature output delivers 15,000 lumens for bolder blues and richer reds.  Its rugged design is ideal for theme parks, night clubs, building illumination and all general outdoor events where weather resistance and durability are critical.  The SeaChanger Nemo utilizes the ETC Source Four front barre housing.
See see all of SeaChangers latest products and the original SeaChanger Extreme Green and Wash fixture at LDI in Las Veags at the Las Vegas Convention Center on October 24 – 26.  Stop by the SeaChanger booth, 2704.
Share

Comments