Times Square Lighting is announcing two new lighting fixtures this year at LDI in Las Vegas.  The first lighting instrument to be introduced is the Sunset Strip.  It is a 120v, multi-compartment strip light that take 12v, 75w MR16 lamps at max.  The Sunset Strip is available in 1,2,3 or 4 circuit versions.  For more information on the Sunset Strip, download the product information sheet or visit www.tslight.com.
Features Include:
Compact Profile
Rugged welded steel construction
Ejector style lamp holder with two-pin slide in sockets
Front mounted neon indicator quickly identify lamp failure
Spring loaded flipper for access to color frame compartment
Supplied with fee through wiring, feed only available upon request.
---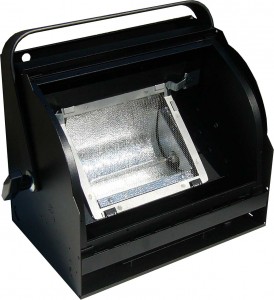 The next instrument Time Square Lighting is introducing at LDI is the Broadway Cyc Light.  The Broadway Cyc is a lightweight yet rugged fixture designed with an asymmetri- cal reflector to provide a brilliant, even wash of light for cycloramas and back- drops. Rated for 1500 watts, this unit features adjustable lampholders which accept lamps of three different lengths. Ajoiner bracket allows this luminaire to be easily converted into multiple cell units. This fixture is available with a variety of yokes and other hanging hardware to accommodate various overhead and
groundrow mounting configurations. For more information on the Broadway Cyc, download the
product information sheet
or visit
www.tslight.com
Features Include:
Lightweight, welded steel construction
Polished asymmetrical reflector provides an even wash light
Joiner bracket allows for conversion to multiple cell units
Durable black powder coat finish
designed for hanging or ground row applications
Supplies with safety screen, colorframe, mounting yoke and 36″, 3 wire leads bare ended
To see either the Sunset Strip or the Broadwaycyc in person, visit Time Square booth, 1849, at LDI in Las Vegas October 24-26.
Share

Comments