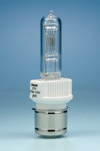 Osram Sylvania recently announced the release of a new halogen lamp for use in6″ and 8″ fresnels. The new high performance lamp, the BTH, uses the same socket base as a BTL lamp, a medium pre-focus base.

The BTH is a 575W lamp operating on 115V and is a direct replacement for the 500W, 120V BTL lamps, providing a brighter, whiter light with 30 percent more lumens and a higher color temperature.  Additionally, the rated output of the BTH of 15,500 lumens is much higher than the output of a BTL lamp at 11,000 lumens.  At an average rated life of 300 hours, the BTH has the same life as most major SSTV lamp types.
To read more about the specs of the BTH compared to the BTL, download Osram's Product Information sheet here.
Share

Comments