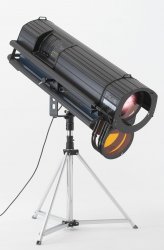 Selecon Lighting out of New Zealand recently announced the arrival of a new product to their Followspot lineup called the Rua. The Rua is a medium throw flollowspot with a degree range of 9 – 16 with variable light output.  Selecon designed the Rau for mid size theatres and outdoor arenas for throws from 56m (184ft) to 34m (112ft) .
The Performer Series of followspots from Selecon, which the Rua falls under uses a 1400/800w mini MSR SA-SE Gold lamp made by Philips.  The Rua weights complete with stand, fixture and color changer at 149.7lbs.
Features Include:
Precise, operator adjustable pan and tilt
Stable Base
Full length and rear guide handles, rubber foam covered.
Electronic Output Control
Beam zoom from one control
Focus from the same zoom control
Six color filter changer, with CTO filter, diffusion frost
Comprehensive control suite
Beam controls, Iris, shutters, pattern holder, dowser
For more information or to download the product cut sheet on the Selecon Rua Medium Throw Followspot, visit www.seleconlight.com.
Share

Comments