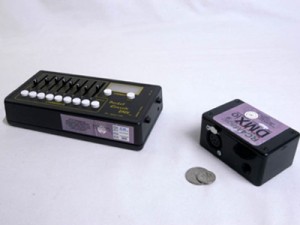 Baxter Controls Inc. recently announced a new model of their popular Pocket Console DMX. The new version, The Pocket Console DMX Wireless has the ability to do all the same functions as the original Pocket Console, such as:
8 Sub Masters
Use of 1 Full DMX Universe
Bump Buttons for each Submaster
Merging the field-tested technology of RC4™, whose wireless DMX system has been time proven in the DMX entertainment field, with the smallest, most graphic and "user-friendly" DMX-512 control device in the world today, the ubiquitous Pocket Console® DMX.
The Pocket Console® DMX and RC4™ wireless technology put DP's & Gaffers in control, where they want it and when they want it. Be the first to walk the set in wireless DMX control.
The Pocket Console® DMX RC4™ functions as a remote control dimmer board, wireless circuit check device, redundant dimmer check, wireless DMX FX trigger or a roaming Whole-Hog II as a wireless 8-submaster Hog-Wing.

From your kit to running DMX to whatever device you choose, that quickly.
While the Pocket Console DMX Wireless does not come cheap at $1.499.99, it does offer the ability to remotely check dimmers and other system checks while no being tied down to the lighting console.  To read more ot to purchase directly from BCI, click here.  To find a local BCI dealer near you, click here.
You can check out the Pocket Console DMX Wireless and other BCI products at LDI.  Visit BCI's booth 1922.
Share

Comments