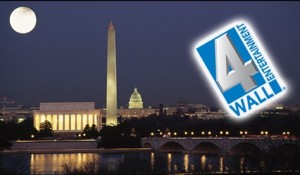 I received a note from a good freind over at Baltimore Stage Lighting Productions, (BSL) about their latest bit of news.  BSL was just recently acquired by 4Wall, a nationally known production and lighting supplier. On January 4th, BSL will officially change from BSL to 4Wall-DC.
More from the Press Release:
In a move uniting two event production powerhouses; Showcall Inc. and 4Wall Entertainment have joined forces. Through an asset-based purchase of Showcall-owned BSL Productions, 4Wall brings its extensive theatrical lighting inventory to Showcall and the Mid-Atlantic marketplace.

The partnership expands Showcall's ability to serve the lighting production marketplace on a national basis, while simultaneously providing 4wall with an immediate foothold in the DC area. While BSL Productions, formerly known as Baltimore Stage Lighting, will cease to exist, the formidable combination of Showcall and 4Wall will only serve to enhance the local production community. Showcall will maintain its headquarters alongside 4Wall-DC at 10 Azar Ct in Halethorpe, MD.

Under the agreement 4Wall will be providing clients with lighting equipment rental services while Showcall will provide lighting production and design services. Current BSL and Showcall Clients will not experience interruption in service, and in fact will now enjoy the flexibility of the largest lighting equipment inventory in the region.
Read more about the news from 4Wall and BSL Productions. Thanks John!
Share

Comments