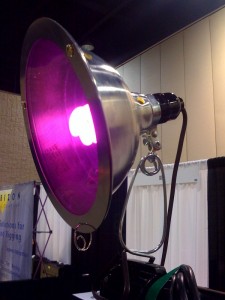 Apollo Design has put a new twist on the back stage clip light. It looks exactly like the clip light that you would pick up at your local hardware store, only Apollo has put their special touch to it.
Almost every theatre has at least one clip light backstage as a work light or cross over light with blue or purple gel gaff taped to it.  Apollo has simplified the process and has added metal ring to the front that clips to the reflector, thus removing the gaff tape mess from the clip light.
While this is a rather simple and easy product, it does what it is suppose to and makes putting out gel covered clip lights easy, quick and clean.
The retail price for the clip light is $19.95.  This included the clip light, metal gel ring.  Apollo has not confirmed that if any gels will ship with the fixture, but chances are that they will.  As with almost any fixture, lamps are sold separately.  The fixture is set to start shipping as early as may.
Share

Comments