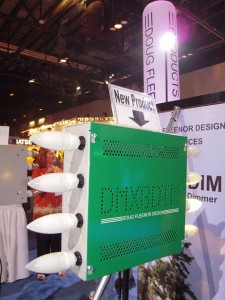 Leave it to the good doctor, Doctor DMX, aka Doug Fleenor Designs, (DFD) to develop a new and interesting product for LDI this year.  We all know that Doug Fleenor Design comes out with some pretty remarkable DMX products like the DMX/RDM Coffee Pot and  the DMX-a-Sketch at past LDI's.  This year was no let down.
Doug Fleenor Design had a DMX Blender on had to mix up some lovely adult drinks during the show. On a side note, when o when is DFD going to produce these wonderful devices?! I would love to operate my entire kitchen off a lighting console!
What DFD did have on the show floor that we can purchase in the near future is DFD's entry into the dimmer world with the Green Dimmer. DFD designed the Green Dimmer as low power dimmer to drive 250 watt or less loads for such luminaries like LEDs, CFL and even neon.
The Green Dimmer operates off a 120v, 20amp power input and splits it off into 8, 2amp dimmable outlets.  Would you be surprised to know that this is of course controlled by DMX? All of this fits into a 12″ x 12″ x4″ NEMA 1 enclosure and runs super quite as there are no fans or filters.
I was not able to get a price out of the good doctor and information has not reached the DFD website as of yet. Look for more information about the Green Dimmer from Doug Fleenor Design here on iSquint.  To learn more about the neat DMX products the good doctor produces, visit DFD'd website at www.dfd.com.
Share

Comments