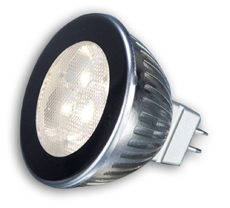 Do you own any MR16 mini strips? If so, you might be interested in Elation's latest product, the MR16 5w ELED lamps. There are two versions of the MR16 5w ELED lamps, the 12v bi-pin and E27 medium screw-base. Both are made with 5w Nichia LEDs which produce as much light output as 50w halogen lamps.  Both versions of the LED MR16 lamp are available in a warm white at 2,700K and a neutral white at 3,500K.  There are two flood degrees also available, 30 or 60 degree. All versions of the ELED MR16 lamp are dimmable using standard power sources.
What makes these lamps stand out is that they are rated for 40,000+ lamp hours.  At a retail price of $39.95 for the bi-pin version, the ELED lamps can be quite an investment up front.  But doing some quick calculations, the ELED MR16 lamps pay for themselves in less then 17,500 lamp hours based just on lamp replacement cost alone.
For more information on the Elation 5w MR16 ELED lamps, visit their website at www.elationlighting.com.  To purchase the ELED MR16 lamps, contact your local Elation dealer.
Share

Comments