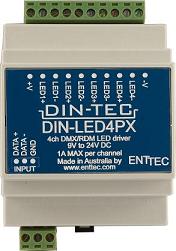 Enttec, the makers of such products as the DMXis and the MIDI Wing Panel has just introduced their latest control device, the DIN-LED4PX. It may seem like a complicated name, but it is a simple device. It is a 4 channel, constant voltage LED driver with DMX/RDM inputs that fits right to a din rail system!
For those of you wondering what a din rail systems is. A Din Rail System is a collection of unique "open architecture" high density rail-mounted components designed specifically for remote control and acquisition. Featuring a highly integrated modular design and support for industry standard Modbus ASCII, RTU and TCP protocols, RAIL components are ideal for use in all industries. All components may be used stand-alone or integrated with other components of the system.
Back to the Din-Tec device. There are 4 LED ports on a 10 way screw connector as pictured on the right for controlling up to 4 channels.  The device also has 1 input of DMX, also on  a screw connector located at the bottom. Each channel can control up to 1A @ 24V which would come from an external power supply.  The LEDs are dimmed with a 500Hz PWM signal, with 8 bits of resolution. DMX addressing happens over standard RDM controllers.
The Enttec DIN-LED4PX retails for $99 USD.  For more information or to find a dealer near you, visit Enttec's website at www.enttec.com.
Share

Comments