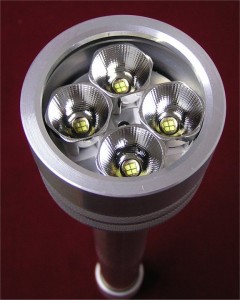 You have to ask yourself sometimes, when is a flash light to bright?  My response, Brighter the Better Baby!
One of iSquint's readers, Tobin Neis sent me a link this morning about something he read in Wired Magazine, the FireSword-IV from Elektrolumens. First things first, this thing puts out over 3,000 lumens. Talk about CRAZY bright! The FireSword is powered by four – 18650 Lithium-Ion Rechargable Batteries. It uses four – Cree MCE LED's with custom 20mm reflectors. The LEDs have a life expectancy of 50,000 lamp hours which equals 5 years of continuous use.
The FireSword measures in at little over 1 foot long and just under 3 inches at the head. Elektrolumens does not mention what the FireSword is made from, but I would assume Aluminum, but weighs in at 3 lbs.
To learn more about the FireSword-IV, visit Elektrolumens website at www.elektrolumens.com.  You can also purchase your very own FireSword from their online shopping cart for $399.99.  But you might have to wait a bit on delivery, each of the Fireswords are custom built!
Share

Comments