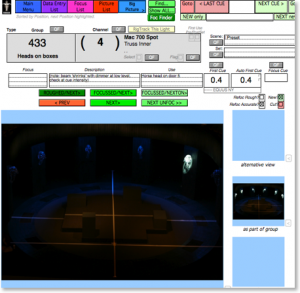 FocusTrack, the Production Lighting Documentation software is set to announce the release of version 2.0 of FocusTrack at USITT today. FocusTrack is a database system designed for keeping track of how lights are used within a show. It offer a complete lighting rig management system for recording every facet of both conventional and automated lighting fixtures, including set-up, dimmer set-up, gobo and color loads in addition to focus.
From your showfile, it can figure out how your show is made: which moving lights are used in which focuses, which scenes they're used in, which bits of scenery those focuses are for. Which conventional lights, colors, gobos and more are actually used. No more trawling through the off-line editor manually making lists.
It can help you document your focus with digital photography, a precise record, not a written description; FocusTrack will bring up lights in the right positions for you as you photograph them, then import those pictures. No more perching a laptop on one knee while you call up channels on the radio to take their pictures.
In version 2.0, FocusTrack, functionality is extended to include ETC's Eos, Ion consoles and the MA Lighting, GrandMA consoles.
If you are attending the USITT Stage Expo, make sure to visit the FocusTrack booth, 81.  FocusTrack will be ready for download the week of March 23, 2009.  A full licence of FocusTrack run UK£400 or $580.00.  Visit FocusTrack's website at www.focustrack.co.uk for more information and screen shots.
Share

Comments