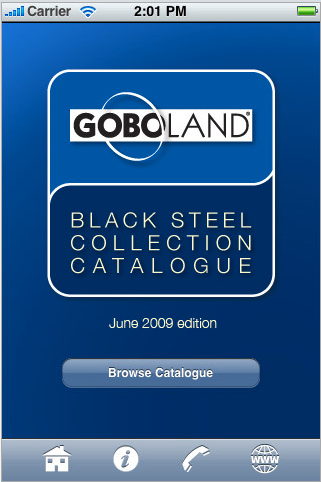 Looks like another Gobo manufacturer has gotten on the iPhone App bandwagon. Goboland has just announced the release of their very own iPhone app that includes their entire Black Steel Gobo catalog.
From iTunes:
GOBOLAND is an independent, specialized manufacture of high quality glass and steel gobos for all lighting fixtures.  Easily browse the award winning Black Steel Collection gobos.  The app doesn't require an internet connection while you browse the 1200+ gobo patterns available in high quality Black steel or glass.
The app requires iPhone OS 2.2.1 or later and runs about 41.9mb.  Not the smallest file size, but when you think about it, that is over 1200+ images and one less gobo catalog to print or carry around.
The Black Steel Gobo Catalog is a free app through iTunes, linky linky.  We are a little annoyed that this is yet another gobo catalog app running on the iPhone.  Can't we just add all of these into one place?
Share

Comments