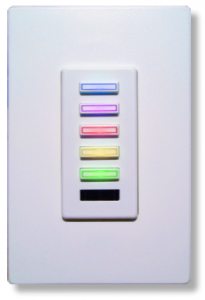 Interactive Technologies, the makers of the CueServer, has just introduced their latest DMX Control device, the SceneStation. The SceneStation is a different kind of architectural Preset Station as is goes beyond just simple playback of looks, but can run chases, stepped sequences or a cue list of scenes.
Each of the five buttons on the SceneStation include a fully programmable RGB backlight LED with optional button caps that can be engraved with custom labels.  The SceneStation also includes an infrared port for controlling, programming and setting up the SceneStation with a programming remote.
The SceneStation can control any device that runs over standard DMX signal as the SceneStation has bi-directional DMX port.
Interactive Technologies will be launching the SceneStation at the PLASA Show at Earls Court in London, England next week as well as LDI in November in October. To learn more about the SceneStation, visit Interactive Technologies website at www.interactive-online.com.
Share

Comments