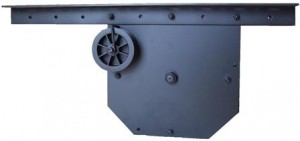 Just When you thought that there couldn't be any new advanced in stage rigging, JR Clancy announces a new 56 Series of Loft Blocks.  JR Clancy has rethought their most dependable, no-failure 55 Series of Loft Blocks and made some improvements to bring the 56 Series to life.
The 56 Series offers some new features:
Quieter operation. The 56 Series features a new Quiet Idler, a remarkable noise-reducing idler that stays quiet, even at the higher speeds of many motorized sets.
Greater capacity. We've increased the capacity to 750 pounds, up from the 500-pound capacity of our previous blocks.
We've kept all the excellent features you've come to expect from Clancy loft blocks:
Ease of use. The new 56 Series Universal Loft Block is as easy to install as its predecessors. Base angles with continuous, alternating slots and holes permit installation in a wide variety of field conditions—so your installers don't have to drill new holes in the field.
Sturdy materials.  The new blocks are available with either nylon or grey iron sheaves.  With the nylon sheaves you get a 750 lb capacity, lighter weight, lower cost, and less wear on the lift lines.  Blocks with iron sheaves have a 500 lb capacity, due to their lower read pressure rating.
Flexible installation. The loft block can be installed in many different situations:  upright, underhung, or with a pivot.
Standard or custom. In addition to our standard blocks, J. R. Clancy can provide custom blocks for any environment.
Get more information about JR Clancy's new 56 Series of Loft Blocks by visiting their website at www.jrclancy.com. If you are attending the LDI Show in Orlando this year, stop by the JR Clancy booth, 1702 to talk to a sales rep about the new 56 Series Loft Black.
Share

Comments