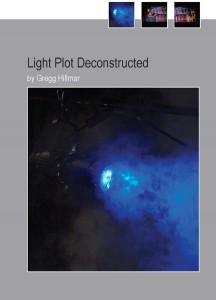 I just received a note that Gregg Hillmar's book, Light Plot Deconstructed is going into it's second edition! It was just announced yesterday, November 17 and released to the public.
This tutorial manual is based on Gregg Hillmar's successful Vectorworks Spotlight demonstration and training courses. Mr . Hillmar provides a short, accessible, and easy to follow look at Vectorworks Spotlight as an addition to the Vectorworks Manuals.
More from Nemetschek's Press Release:
This companion guide is great for anyone seeking to learn the fundamentals of drafting lighting design with Vectorworks(r) Spotlight software.

Light Plot Deconstructed is the work of accomplished scenic and lighting designer Gregg Hillmar, who has developed proven methodologies for drafting light plots over more than 15 years of experience. His successful methods for designing with Vectorworks software have been exhibited many times over the years, whether they were to fellow colleagues at tradeshows and seminars, or in the classroom where he has taught scenic and lighting design to many aspiring professionals at Randolph-Macon College.

This second edition is based on Vectorworks Spotlight version 2010, but it can be used successfully with prior versions of Vectorworks software. Suited for both students and professionals, this manual is especially valuable to lighting designers who are relatively new to using Vectorworks software.
You can buy the 2nd edition from either Nemetschek's website, www.nemetschek.com or from Gregg's website at www.lightplotdeconstructed.com. The 2nd edition is the same price as the first edition at $40 USD.
Share

Comments