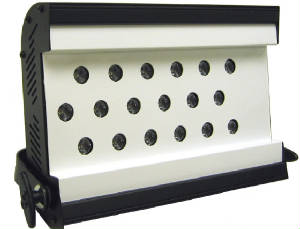 Lighting and Electronics out of Wappingers Falls New York introduced a new product the their WorkLite series of fixtures, the WorkLite LED at LDI this year.
The WorkLite LED uses 2.5 watt, high intensity white LEDs lamps at 150 lumens per LED.  With 18 LEDs, that equals 2,700 lumens of output. The WorkLite produces 6,500 kelvin color temperature with a 48 degree field angle and 33 degree beam angle.
Since the fixture uses LEDs, the WorkLite LED is ideal for spaces that are looking to replace their tungsten or HID worklights with energy efficient LEDs. The fixture is low profile and light weight measuring in at 10.25″h x 15.3″w x 3.25″d and made from light weight aluminum.
The L&E WorkLite LED has an on board power supply and requires no modifications to operate on either 120v or 240v. The LEDs have a lamp life of 70,000 hours.
Production of the WorkLite LED has begun and is expected to begin shipping during the first quarter of 2010. The WorkLite is expected to be in the price range of $1,200. USD.  For more information on the L&E WorkLite LED, visit L&E's website at www.le-us.com.
Share

Comments