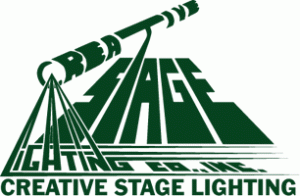 Are you in the market to upgrade your lighting equipment for your space?  Baffled by all of the choices of lighting gear out there?
Never fear, Creative Stage Lighting has you covered. On Thursday, August 27, yes tomorrow, from 3:30pm-5pm EST, Creative Stage Lighting will be holding a webinar of Making Informed Lighting Choices for Your Venue.
CSL has brought in C. Andrew Dunning of Landru Design in Nashville TN and CSL's own Michal Nevitt to cover the topic at hand.
Choosing what should go into your venue comes down to defining what you want to accomplish, what your venue requires, and what your budget allows. During this webinar we take a look at a few things to keep in mind when deciding what to put into your venue.
Topics include:
Goals – What are you looking to achieve
Needs assessment – what does your space really require
Planning – Are you prepared for future growth?
Green or Not Green – The world of LED vs. conventional
Choices – What products can live within your budget
Feature/benefits – Various products
The webinar is open to anyone interested and is yet another free service from Creative Stage Lighting.  Be sure to register and sign up for the Making Informed Lighting Choices for Your Venue webinar today!
About the presenters
C. Andrew Dunning
C. Andrew Dunning is the owner of Landru Design, located in Nashville, TN.  He has a diverse background, with experience lighting many types of projects –  including concerts, tours, festivals, video shoots, special events, and churches.   He brings with him a reputation for lighting that tastefully accents and enhances the unique qualities of each production.  His work with touring artists such as dc Talk  and Stacie Orrico has taken him around the world.
Working with event producers, like the Luis Palau Association and The Potter's House, has given Andrew the opportunity to be involved with events that can each draw as many as 300,000.  His lighting has also complemented projects for NASA, North Point Church, Tracker Marine Group, and Celebrity Cruises.
Michael Nevitt
Michael Nevitt is a veteran of the lighting industry and serves as Product Manager at Creative Stage Lighting.
Nevitt's design and automated lighting programming experience includes work he's done for feature films such as The Grinch, Batman & Robin, The Flintstones in Viva Rock Vegas, and Miss Congeniality. In addition, he has worked on top sporting events like the Salt Lake Olympics, Super Bowl Half-time show and the Ryder Cup Opening Ceremonies.
Nevitt also brings Product Management experience from Martin where he worked on the development of Martin's Maxxyz Console and Maxedia Media Server.
Share

Comments